Do the mountains call you for your dream retirement? Many people, including most of my clients, aspire to retire to the active lifestyle, fresh air and natural beauty of the Colorado mountains. What will it take to achieve that dream?  Here are some considerations for planning your mountain retirement:
Follow Your Dream                         
What about mountain living is so appealing?  Skiing during the week without crowds? Miles of cross country ski trails with just you and your dog? Endless summer days searching for wildflowers? Or is it the sense of community found in smaller towns and resorts across the mountain west? Finding the perfect mountain town for you requires more than throwing darts at a map. Mountain Town Magazine offers this list of dream towns in Colorado.
Do You Have a "Retirement Career" Goal?
One of my clients dedicated his retirement career to hiking in the summer and cross-country skiing in the winter, logging hundreds of miles each season. Along the way, he volunteered to help build and maintain the trails he still enjoys today. He entered his retirement with a goal: to hike as much as possible. Many retirees take the drive that made them successful in the business or professional world and divert that energy to a "retirement career."  Do you have a retirement goal aligned with the mountain lifestyle? Want to ski 100+ days a season? Learn the names of every alpine wildflower? Golf across the West?
Stay Healthy, Stay Fit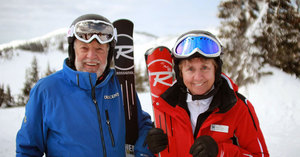 Mountain living demands a healthy and active lifestyle to take advantage of all that the culture offers: skiing, hiking, biking, water sports, fishing, golf, festivals and fairs, and so much more. If your retirement dream is to enjoy more outdoor activities, the mountains are the place for you. And the bonus?  Exercise is good for you and can make you happier than any bank account could do, according to this article from Business Insider. The benefits of a connection to nature are also well documented. Our mental and physical health is improved with access to greenery and fresh air according to Outside Magazine.
Healthy Communities
Staying healthy and fit in retirement requires a team to support you.  When choosing your ideal mountain town for retirement, consider the local health care system.  What are the offerings of the area's personal trainers and physical therapists? What is the availability of doctors and health care providers?  Is there a hospital nearby?  How far will you have to travel for the specialists you need?
And don't forget to investigate the fiscal health of your chosen community.  Does your town practice good governance? Is there adequate revenue to support the government programs offered? Does your community provide basic services that you may need like public transportation and senior programs?
Finding Your Own Community
A sense of belonging, friends and play partners contributes immensely to well-being, mental and physical health. So how will you meet new friends in your retirement community?  Chances are good that the place you have chosen to spend your retirement years is also attractive to other retirees.  Like your first weeks in college, there may be scores of new people to meet with similar interests and life stories.  But connecting can be more of a challenge. It may take a considerable investment of time to make lasting friendships when the population of mountain communities can be so transient. For finding your community, the best advice from mountain retirees is to "get involved."
Mountain towns often run on the strength of the volunteer pool.  The wide variety of non-profit organizations and community programs could not exist without retirees, people like you with new-found time on their hands and a driving passion to help. Volunteer opportunities range from environmental organizations and trail work to social services, culture, music, theater, film, dance, youth… the list is long. Political involvement is another way to make an impact in your community.  Volunteering can be the best way to meet and connect with people who share your interests.
Hand in hand with volunteering is philanthropy. Giving to and supporting those local non-profits and community programs that make your mountain town thrive provides returns a thousand-fold. Your return on investment is much more than a good feeling. Programs that contribute to your retirement quality of life continue with your support. Do you love music or theater? Want to support the trails you travel?  There is a non-profit for that! And your support connects you to other donors, volunteers and board members who share your passions.
Your living accommodations may also provide a built-in collection of friends. Neighborliness is a Western tradition, borne from the days when ranches and homesteads were so far flung that people had to rely on each other.  Modern neighborhoods' closer living arrangements can make for closer friends too.
A spiritual home can serve many needs including new friends and a place of belonging. Research your opportunities for churches, synagogues, and other houses of worship before choosing your mountain community.
Networking for business or social purposes can provide access to people with similar pre-retirement backgrounds. Can the local Chamber of Commerce set you up as a business mentor? Are there meet-up groups for retired engineers, educators or medical professionals? Rotary Clubs blend business and philanthropy, providing rich opportunities for connection.
Financial Planning – It will be Expensive
Is a million dollars enough to retire to the mountains? What about two million? Mountain living is expensive. Just as the miners had challenges getting the gold out and the supplies in, today the relative isolation of mountain communities means that everything costs more from gasoline to groceries. The biggest ticket item is housing.  With average home prices ranging from $675,000 in Summit County to $1,690,000 in Aspen's Pitkin County, living mortgage free in the mountains requires a huge chunk of change to plunk down on your domicile.
While housing might be the largest single expense, life's daily demands also demand a solid financial cushion.  Dining out, new skis and boots, theater and music tickets, festivals and parties, dedication to your "retirement career" or travel during mud season can quickly draw down a retirement fund, if not managed prudently.
Many retirees maintain a connection to their former business life as a consultant or part-timer, or supplement their income with a new venture.  Others are drawn to part-time work. Mountain communities have a plethora of part-time jobs perfect for older workers like guest services at the ski area, aide at the library or docent at the local historical museum. Retooling with some continuing education, an industrious hobby or a side gig is a good way to prepare.
Another approach is to gain a foothold in the mountains by bringing your job or business – or even a new one – here before you retire. Technology and improved transportation have made geography virtually irrelevant in conducting business today. The mountains might be the perfect place for a meaningful Victory Lap Retirement .
Once you have that mountain retreat, family and friends will want to visit. Adequate funds for entertaining will be required. Your mountain home may become a multi-generational gathering place holding fond memories for the entire family, making it more difficult to dispose of that home when it's time to move on. Can you manage a second home in the mountains and a retirement home at a lower elevation? How will you manage the disposition of the family cottage in the mountains?
The Basics Still Apply
While a mountain retirement can be extraordinary and unique, the nuts and bolts are decidedly more conventional. You need to achieve just the right blend of life planning and financial security.
Reasonable spending goals. Do you have sufficient resources? Have you saved enough? Do you need to turbocharge your savings? Some benchmarks (like 10 x your pre-retirement income) are a good starting place. But nothing compares with crunching your own personal numbers. There is a 50% chance that at least one member of a 65 year-old couple will live to age 95.
Your annual and periodic spending goals (including health care and taxes) must be commensurate with 1) your guaranteed sources of income, such as pensions and Social Security, 2) a sustainable withdrawal rate from your investment portfolio and 3) any part-time earned income. Just as in pre-retirement, you should have an emergency fund in cash. And be prepared to cut back on spending during bear markets.
Social Security claiming strategies. Social Security can be claimed any time between age 62 and age 70. The longer you wait, the more you get. This inflation-adjusted, government source of guaranteed lifetime income can be the backbone of a retirement plan. Deciding when both members of a couple should claim can be very important to a successful plan.
Investing Fundamentals. How much and what kinds of investment risk do you need to take to achieve your goals? Similarly, how much risk are you able and willing to take? This is an iterative process best undertaken with a guiding hand.
Asset Allocation and Asset Location. It is critical to have the right portfolio asset allocation when you are approaching and during retirement. How much return seeking asset classes like stocks should you have? How much in US vs. International stocks? How much should you have in safer bonds and cash, both to dampen portfolio volatility and to fund spending when the stocks in your portfolio inevitably go through a bear market – and you don't want to sell any. Do you want to annuitize a portion of your savings to add a guaranteed income stream to supplement your Social Security?
If you have planned well enough to have a traditional IRA, a Roth IRA and a taxable portfolio, which kinds of asset classes are most efficiently held in which accounts? These decisions can have a significant impact on how much you pay in taxes during retirement.
Finally, do you want to incorporate any of your personal values, such as sustainability, into your portfolio. SRI investing can be a very laudable goal, but adds an extra dimension of analysis and planning.
And In the End….
What are your strategies when you can no longer live in the mountains? The weather, long winters and high altitude are hard on a body. Many older adults need supplemental oxygen at night to manage pulmonary hypertension. Shoveling and clearing snow all winter long is taxing work. And few mountain communities offer assisted living and other long-term care facilities, in large part because altitude plays such a significant role. As most people need a more oxygen-rich environment to thrive in their later years, no amount of assisted care will make up the oxygen deficit.
Because of the significant health and environmental challenges, it can be hard to stay in the mountains full-time past the age of mid-70's to 80. At that time, many mountain retirees decamp to lower elevations.  Some have the decision to move forced upon them quickly when an urgent health issue comes up. When leaving the mountains, where will you go?  Having a Plan B in mind can make the transition go smoothly, especially when the time to move arrives before you might like.
Make the Most of Your Years in the Mountains
While the inevitable sneaks up on all of us, retiring to the mountains can make for the best years of your life.  Skiing powder, cruising groomers, fishing mountain creeks, hiking with friends, surrounding yourself with nature are memories to cherish for a life time. With sound advice and a good financial plan, retirement in the mountains can be an achievable goal to realize your dreams.